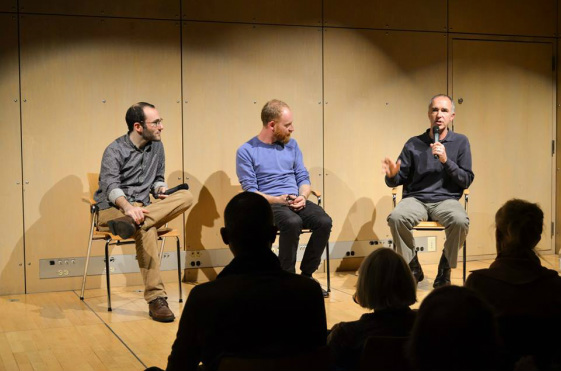 With director Guy Ben-Aharon and playwright Ewald Palmetsofer during Q&A after staged reading of "the unmarried woman" at ACFNY
Upcoming:
Staged reading of my translation of Maxi Obexer's
Illegal Helpers
, directed by Miriam Eusebio,
Voyage Theater
, New York, Aug. 24. This translation previously presented in staged readings in Washington, DC, Chicago, and New York.
Staged reading of my translation of Thomas Arzt's
In the Dead Mountains
, directed by Guy Ben-Aharon, Austrian Cultural Forum New York, December.
Staged readings of my translation of Mehdi Moradpour's
Pure Land
,
Silk Road Rising
, Chicago, Feb. 3-4.
Recent:
Participant in Banff International Literary Translation Centre, working on
Totes Gebirge
by Thomas Arzt.
"New US theatre translation network goes online,"
Theatre Times
December 4, 2016
Panelist, "The Art of Translating: Interpreting Cultures and Context,"
Silk Road Rising
, Chicago, March 2017
My translation of Ewald Palmetshofer's
the unmarried woman
[
die unverheiratete
] presented in staged readings at
International Voices Project
, Chicago (April 2016) and Austrian Cultural Forum New York (Dec. 2015)
Commissioned translation: Björn Steiert,
Heros
- a dramatic monologue about the murder of John Lennon